Ethereum is one of the most traded cryptos on trading platforms. In recent days, it has experienced a more or less significant increase. This allows day traders to find entry points for long positions. In Ethereum, a significant level was seen around 1,680 USDT. As of this writing, this position has closed in profit. Let's analyze in detail why and how this position is.
Crypto trading: why are you taking a long position in Ethereum?
First, this is because ETH is in a medium-term uptrend. Who says medium term, says a daily timeframe. For a day trader, this is the ideal starting point for chart analysis.
After that, it is necessary to go down on a 4-hour or one-hour chart to find important support/resistance levels. On the ETH/USDT chart, we see a level where the price is rejected every time: around 1680 USDT. Therefore, it can be an ideal entry point to do crypto trading on Ethereum.
In addition, the price recently broke the July high: 1,785 USDT. This proves, for the followers of SMC (a trading strategy), that Ethereum is ready to continue its bull run. But before that, the market will take "buy" orders around a key level.
This is why this day trader is taking a long position in Ethereum / TetherUS.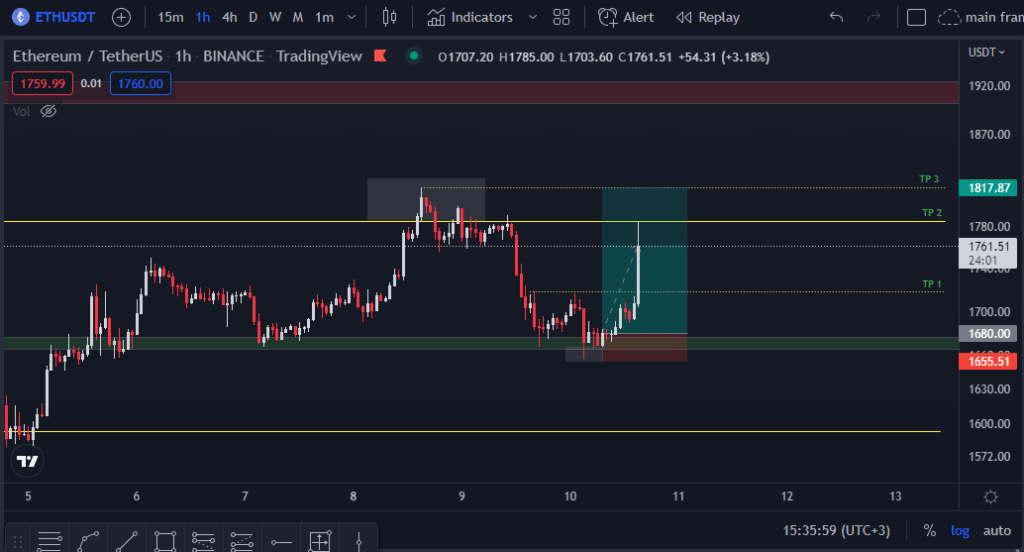 To protect a position, but also the capital, a trader must set a stop loss and a take profit.
This is the bottom of the Asian session: 1,655 USDT which serves as a stop loss, in the case of this crypto trading in Ethereum, . In fact, the London session did not go beyond this low. This means that the US session will not go below this price. This is an ideal level to place your stop loss. Finally, the support/resistance zones in the medium term are take profits.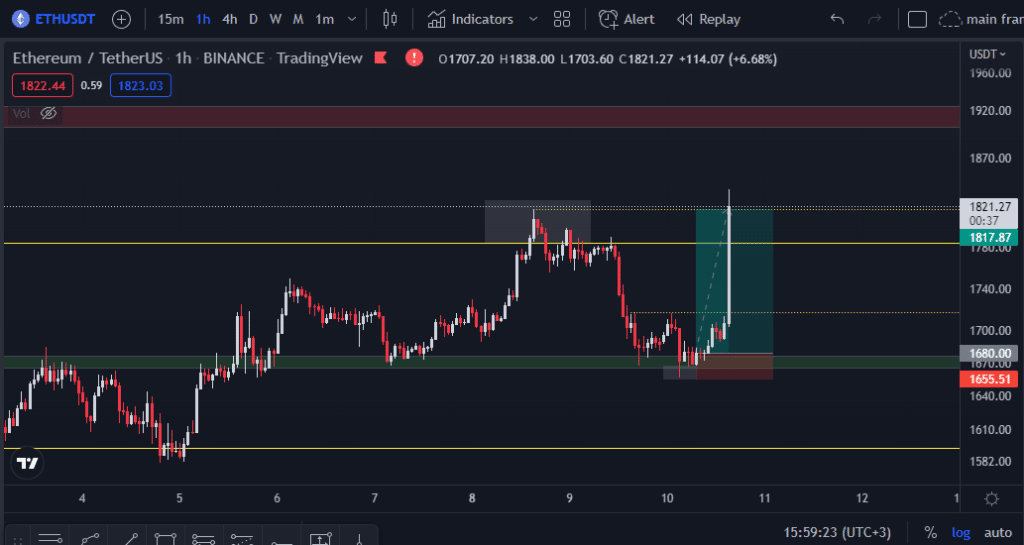 Thanks to this analysis, the long position of ETH was closed with a profit. If you want to do crypto trading on Ethereum in the future, you can use these analysis methods. Thus, it helps you to profit from every movement in the market, even in the short term.
Receive a news digest of the world of cryptocurrencies by subscribing to our new service at newsletter daily and weekly so you don't miss any important Cointribune!
Cointribune's editorial team unites their voices to express themselves on topics specific to cryptocurrencies, investments, metaverse and NFTs, while trying to best answer your questions.