On November 02, Holoride announced the launch of its VR car entertainment system in Germany. So those who own some Audi cars can buy the company's Pioneers Pack. They will have everything to turn their car into an "always-on virtual space" where they can play games, browse the web, and more.
Holoride stands out from competing VR systems thanks to this unique use of real-time vehicle datal including steering, braking and acceleration. In fact, the system offers a more and more interactive applications. Because of this, you are more immersed in the experience. It also promises to relieve motion sickness.
"In recent decades, the car technology made remarkable progress. But the passenger experience and onboard entertainment remains the same," it said Nils WollnyCEO and co-founder of Holoride in an official statement.
"In introducing Holoride, we're not just elevating this old experience. We are also changing the way you spend your time traveling," he added.
Holoride's Pioneers Pack, Coming to Other Markets
Each one Pack of pioneers including lightweight VR glasses powered by an Android smartphone and a classic gamepad to interact with virtual content. It also includes smart straps. It connects to your seat belt to provide an extra layer of safety on a particularly bumpy ride. Finally, we count a one-year subscription to the Holoride platform (19.99 EUR per month after the first year).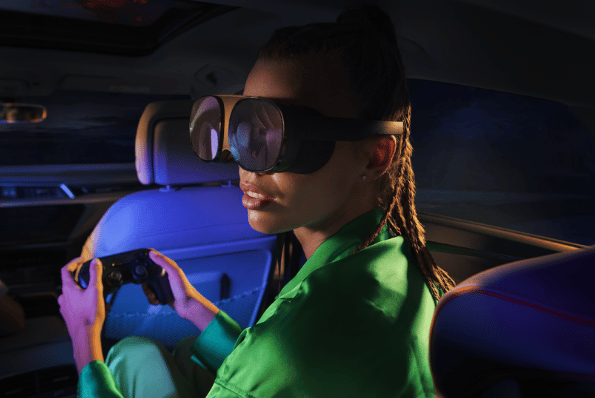 Holoride will offer a game at launch: Cloudbreakers: Leaving the Harbor. Developed by Schell Games, it is a third-person action shooter.
In addition to games, Holoride offers a dedicated web browser which allows you to mirror the screen of your smartphone. You can enjoy your favorite content on a large 180 inch virtual monitor. In the future, the company plans to introduce new games and applications in its catalog, including a variety of edutainment content.
The Pioneers pack is available for 699 EUR in Germany. The system is now compatible with some Audi cars. Particular mention is made of Audi A4, A5, A6, A7, A8, Q5, Q7, Q8, Audi e-tron, Audi e-tron Sportback and Audi e-tron GT. The system will be soon available in other marketsstarting in the United States in early 2023, with Europe and Asia to follow.