Protection 3.0 – The number of trademark applications related to non-fungible tokens (NFTs) and metaverse in the first eight months of this year, is not far from double that recorded in 2021.
It's roaring through the doors of the US Patent and Trademark Office! In his tweet on September 6, intellectual property lawyer Mike Kondoudis revealed the US trademark application statisticsfiled for products and services related to NFTs, metaverse, web3 in general, between January and August of this year.
Mike Kondoudis shared a graph that progressed the number of 3,899 requests American brands during this first eight months, an average of 487 monthly requests. March saw a record 604 filings.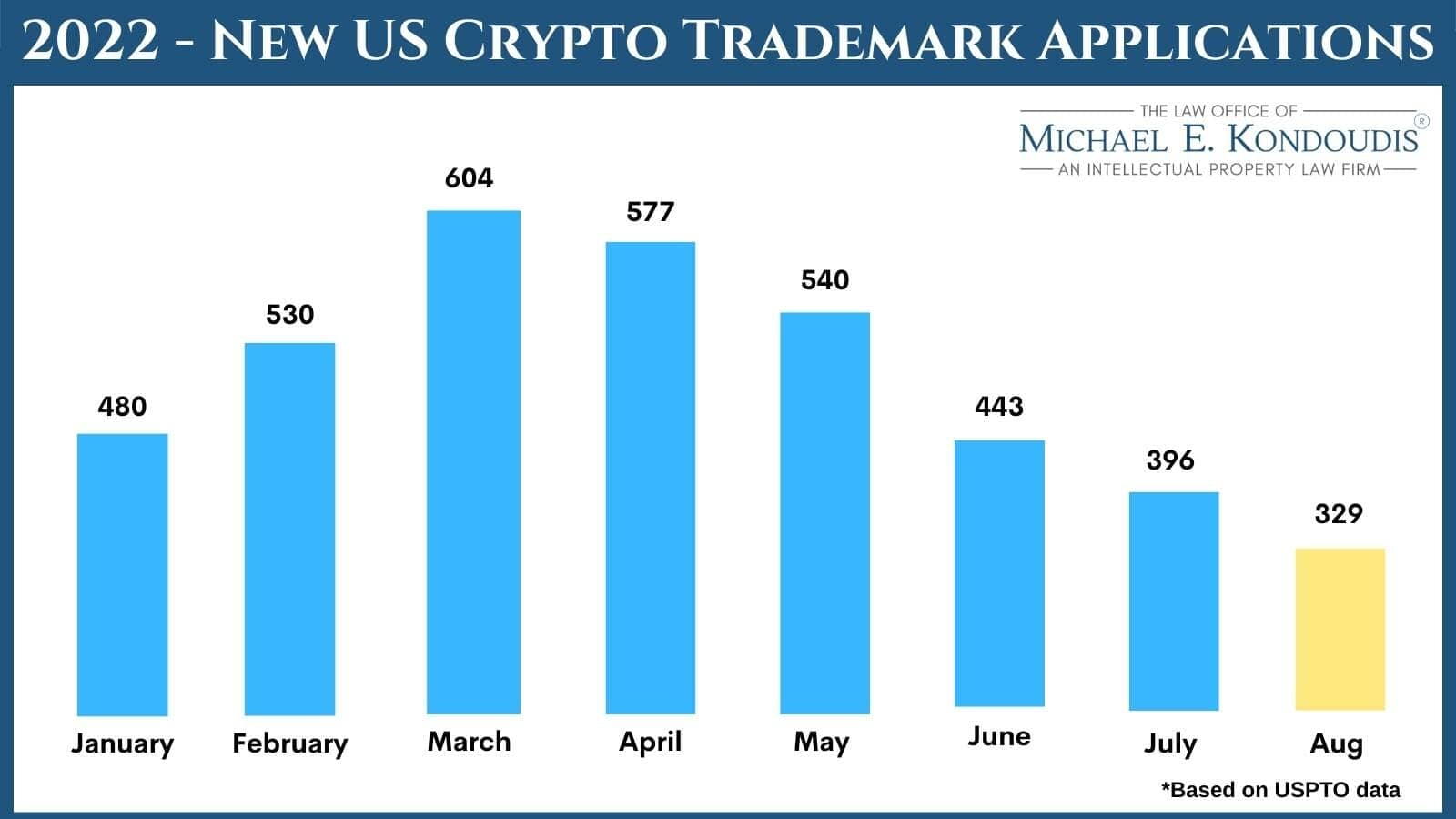 The pessimistic narratives about cryptocurrencies, against the backdrop of bear markets this year, did not prevent companies from taking their first steps or strengthening their presence in NFTs and metaverses. The number of requests for the first eight months exceeded 2,087 requests trademark registration in the previous year in general.
>> Play it safe, register on Binance THE benchmark for crypto exchanges (commercial link) <
A web3 plunge fueled by copycats and opportunists
Fair or foul! Disputes between some big brands and artists or sometimes opportunistic and unscrupulous people on the web3 opened the eyes of some companies, in the importance of protecting their names in these new virtual universes.
One of these shakeups has to do with the case of Hermès against the creator of the Metabirkin NFT, Mason Rotherschild. The French luxury fashion brand last year filed a lawsuit against Mason Rotherschild, whose collection posted on OpenSea contained digital versions of Hermès' Birkin bags.
Without adequate protection of their brands on the web3, companies can be overtaken by "entrepreneurs" who are a bit rude, thinking they have found the right root to exploit.
Fenesha Holmes and Reath Mohammed thus filed trademark applications related to the metaverse for Gucci and Prada in 2021. The United States Patent and Trademark Office (USPTO) rejected these applications, because the two people actually, no link with two companies.
Sony Music Entertainment appears in the list of American companies, which recently deposited to bring its brand to web3, with the aim of launching a project that combines music and NFT.
Has Michael Saylor's overwhelming enthusiasm convinced you to jump on the bitcoin bandwagon? Don't wait any longer to prepare for the future. Register now on the Binance platformand save 10% on your trade fee by following this link (trade link).