In an official blog post, Meta announced 2 important new features for the creators of Horizon Worlds, the new virtual world launched at the end of 2021 in the USA and Canada. Goal: to offer monetization tools to attract more creators to its metaverse.
"These types of tools are steps toward our long-term vision of a metaverse where creators can make a living and people can buy digital goods, services, and experiences," Meta said. .
Meta wants to allow creators to sell virtual items or access part of their Horizon Worlds world
The company has set up a test with some creators to allow them to sell virtual items and effects in the metaverse. It may be possible, for example, for a designer to sell fashion accessories in a dedicated world or to offer paid access to allow users to discover a new part of a world.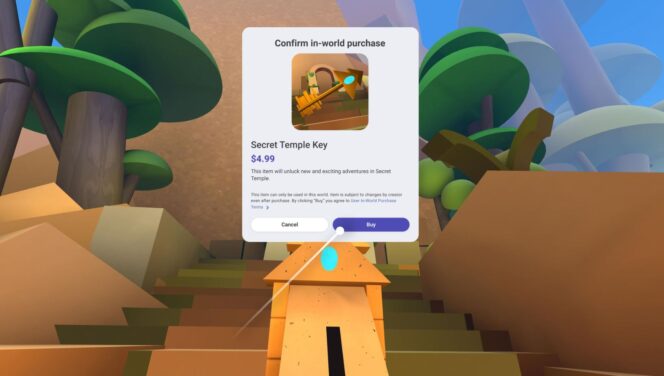 A goal-based bonus program for creators
In addition, Meta also tested a program named Horizon Worlds Creator Bonuses to allow creators to earn money according to the goals to be achieved: "These bonuses come in the form of monthly goal-based programs, where creators are paid at the end of the month based on their progress towards a set goal. Creator bonuses are free and paid out to their creator completeness". The test was launched only in the United States at first.
Want to know more? In a video on the Vidyuu Nights channel on YouTube, Mark Zuckerberg shows these new monetization tools and talks to creators about the many opportunities that the metaverse offers.
How has Horizon Worlds progressed since launch?
Currently, Horizon Worlds is only available in the United States and Canada. By February 2022, Meta's virtual world has reached 300,000 users. The company also announced that 10,000 worlds have been created, as you can see below.
It's time. 10,000 worlds have been created. Come in and play, build or just hang out. The possibilities are endless. pic.twitter.com/VWc83PkuDV

—Horizon Worlds (@HorizonWorlds) February 16, 2022
The race for the metaverse is well underway and this is just the beginning. According to Gartner, in 2026, ie in just 4 years, 25% of people will spend 1 hour a day in the metaverse. It remains to be seen if Meta will be able to stay in front of the stage against formidable competitors like Microsoft.
Source: Meta