The 2022 multi-screen usage barometer, created by the bath research agency, is dedicated to the metaverse and virtual worlds.
Heloise Famie-Galtier / Published in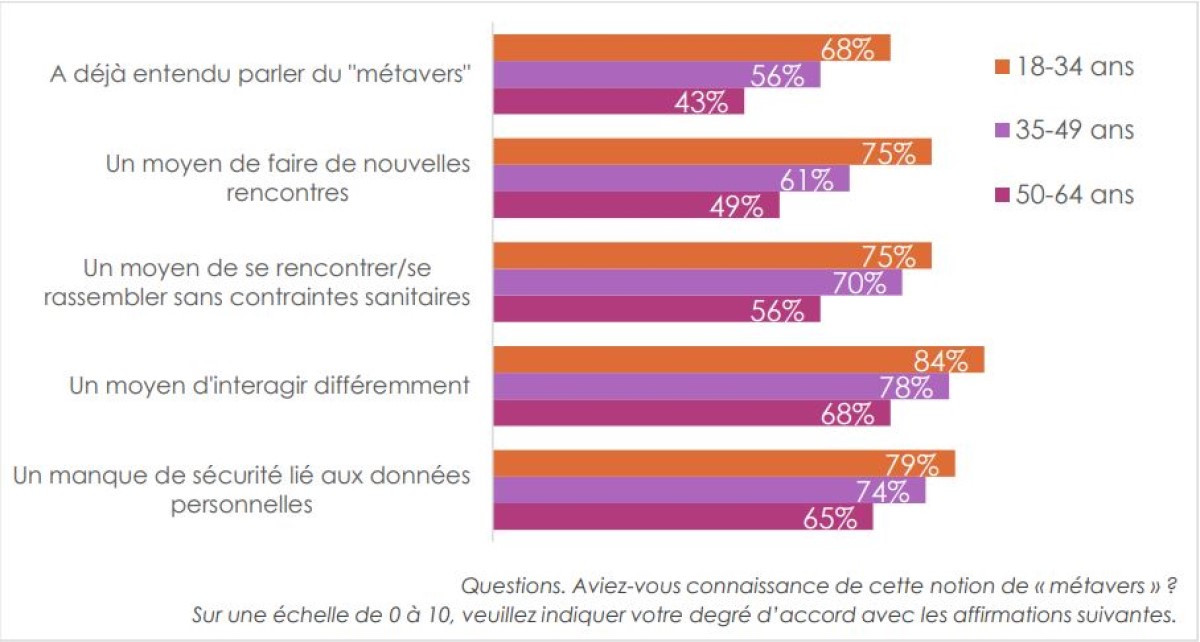 The research agency Iligo has unveiled the 13th edition of its multi-screen usage barometer. It analyzes the perception, the use of digital, as well as the evolution of the French relationship to new technologies. The 2022 edition is more interested in the metaverse and virtual worlds. This survey is based on the responses of 1,000 people questioned between February 28 and March 13, 2022, aged 18 to 64, and representative of the French population in terms of sex, age, CSP and UDA5.
18-34 year olds have a broader view of the possibilities offered by the metaverse
The barometer shows that the metaverse is known to 56% of French respondents to the survey, who claim to have heard of it: 68% of 18-34 year olds, 56% of 35-49 year olds and 43% of 50 -64 year olds. year. Disparities are significant in the perception of the metaverse, depending on age. In fact, 18-34 years are the most likely to think of meeting new people in the metaverse (75%, compared to 61% of 35-49 years and 49% of 50-64 years) and who understands it best. as a way to socialize differently (84%). (see image above)
The metaverse is considered a place of entertainment by the French
For the French, the metaverse is important above all as a means of entertainment. This is what 81% of respondents said, while 77% believe that the metaverse is a way to escape the real world. It is also seen as a space for exchanges and meetings. Therefore, 71% of respondents see it as a way to share common interests and 66% as a way to meet without health restrictions.
The three main events most anticipated by the French within the metaverse are the following:
Watching movies (74%),
Take courses, conferences and training (72%),
Going to an exhibition or museum (65%).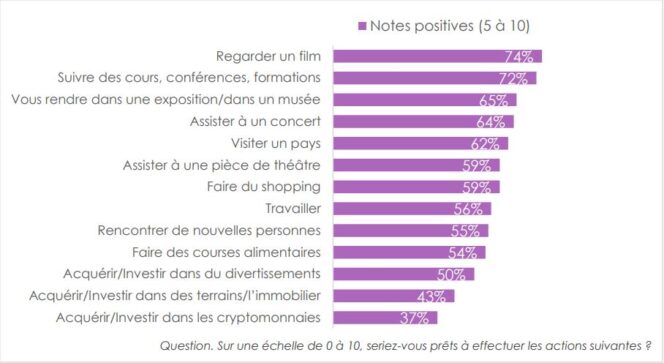 It can also be noted that, on the one hand, shopping was cited by 59% of respondents. The metaverse thus represents new opportunities for brands such as Nike, which created a virtual world, Nikeland, where players can participate in mini games and equip their avatar with branded that product. On the other hand, the financial gains through investment or the acquisition of virtual land or cryptocurrencies are still unthinkable to most of the respondents.
The French are distrustful of data protection
If they consider it as a space of entertainment, the majority of the French people asked express major obstacles to the use of the metaverse. 75% of them say that threats and dangers caused by virtual worlds (such as addiction or cyberbullying) are the main obstacle to using the metaverse. 72% of respondents also highlighted the lack of security related to personal data, while 6 out of 10 French people (62%) believe that they see no interest in virtual worlds.