After the state of shock linked to the collapse of the FTX platform, the anger seems set to last. In particular because of the many interventions in the month of Sam Bankman-Fried. But above all because he was free to do so. An intolerable situation that fueled many speculations of more or less hidden financing of Joe Biden's campaign. And an overly complacent presentation of this unprecedented fraud that also annoys the ranks of other cryptocurrency exchange platforms, such as Coinbase.
According to the official media, Sam Bankman-Fried is almost a modern hero after his apology campaign started last week. With the entire set laughing – and applauding – at his surreal statements about the FTX dossier. and an apparent desire to minimize his liability to make it a kind of victim to know how to add 2 + 2, but in billions of dollars…
That's a bad joke annoying at the highest level in the range of crypto investors affected by this disaster. Whether from a financial point of view, or simply because this activity once again undermines this digital economy of creation. But also Joe Biden's government is struggling determined very embarrassing campaign donations. The latter is estimated with the ladle ofElon Musk for probably more than $1 billion.
Brian Armstrong – FTX is not an "accounting error"
And it is clear that no one will remain silent in front of this disguise is almost as unbearable as the collapse of FTX himself. With the final political outcome as collateral as it is surprising, the abandonment of Ethereum regulation by the president of the Commodity Futures Trading Commission (CFTC) in favor of Securities and Exchange Commission (SEC). This follows a heavy history of ambiguous "negotiations" between his president Rostin Behnam and Sam Bankman-Fried himself, on the sensitive – and apparently political – subject of the treatment reserved for cryptocurrencies.
A disgusting scene vis-à-vis which the CEO of the Coinbase platform, Brian Armstrong, just officially took the floor. This is in a series of tweets where he explains his vision of things as the head of this exchange, like Sam Bankman-Fried before the FTX cataclysm. And according to him, we must not be fooled by the recent statements of this ex-billionaire in search of a redemption as an attempt to avoid going to prison.
" No matter how messed up your bookkeeping is (or how rich you are) you're sure to notice if you find an extra $8 billion to spend. Even the most gullible person should not believe Sam Bankman-Fried's claim that this was an accounting error.. »
Brian Armstrong – Money stolen from FTX customers
Because we must not be blind in today's media communication game. And don't rush reducing the liability of Sam Bankman-Fried of this killing, because of his status as CEO of FTX at the time. Because as Brian Armstrong so clearly explains, it was "purely and simply money stolen from clients used by his hedge fund. »
A situation once again brought to light by the declarations of Sam Bankman-Fried, during an interview given to Ran Neuner podcast Crypto Banter during the weekend. For when the latter asked him if its platform "only buys imaginary tokens that don't really exist. » The latter replied without hesitation: "I think what you are saying is, in fact, about what happened". End of discussion…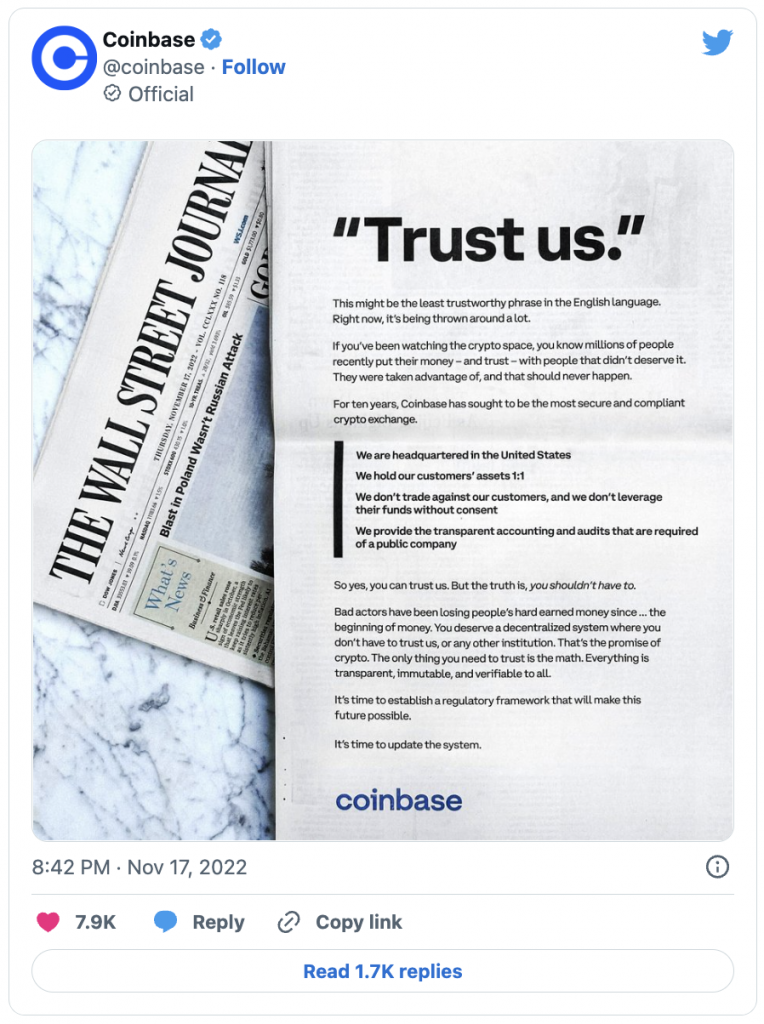 However, the Coinbase platform is trying to recover from this case. With the publication of an advertising campaign in the Wall Street Journal entitled "Trust us". Because, unlike FTX, it also had to deal with shareholders since the controversial IPO. And as many will say that the fall of more than 17% initiated since the FTX debacle is not reassuring. Especially considering the poor results since the winter set in the entire cryptocurrency market.